Firefly/Serenity "You Can't Take the Sky From Me" Button
B-006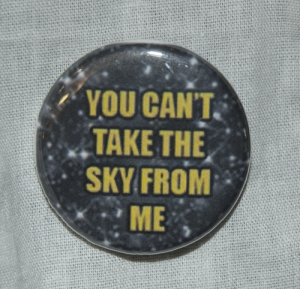 Buttons! Everybody loves buttons! What a great way to show your style,
likes, dislikes, beliefs, etc. I have my bag covered in buttons that
I've made, and I've made quite a few friends because of the buttons that
I have on display! They are totally great conversation starters!
This button shows simple gold text on a starry background. It has the words "You Can't Take the Sky From Me" on in it, letting everyone know that you, like everyone aboard the Firefly, know that the sky alone offers you freedom.
Size: 1 & 1/4 inches
Don't like something about this one? I am happy to make custom buttons, just send me an email and tell me what you'd like :3