Frozen-Themed Button Set
BD-001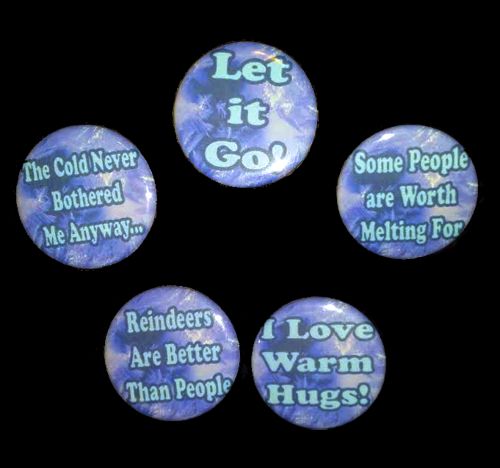 Buttons! Everybody loves buttons! What a great way to show your style, likes, dislikes, beliefs, etc. I have my bag covered in buttons that I've made, and I've made quite a few friends because of the buttons that I have on display! They are totally great conversation starters!
This listing is actually for a button set - all of the Frozen-themed buttons that I've made for Youmacon 2014! As of right now, this is the only way to purchase these buttons as we don't yet have individual listings for them.
Buying buttons in groups is the best, most cost-effective way to do it! We sell our buttons for $2 each individually, but when you buy them in groups, they are 3 buttons for $5 or 7 buttons for just $10! Since this set is for 5 buttons that was made especially for my fans at Youmacon, we are doing a special group price of $7.
Size: 1 & 1/4 inches
Don't like something about these buttons? I am happy to makeyou custom buttons with anything you like on them, just send me an email and tell me what you'd like :3